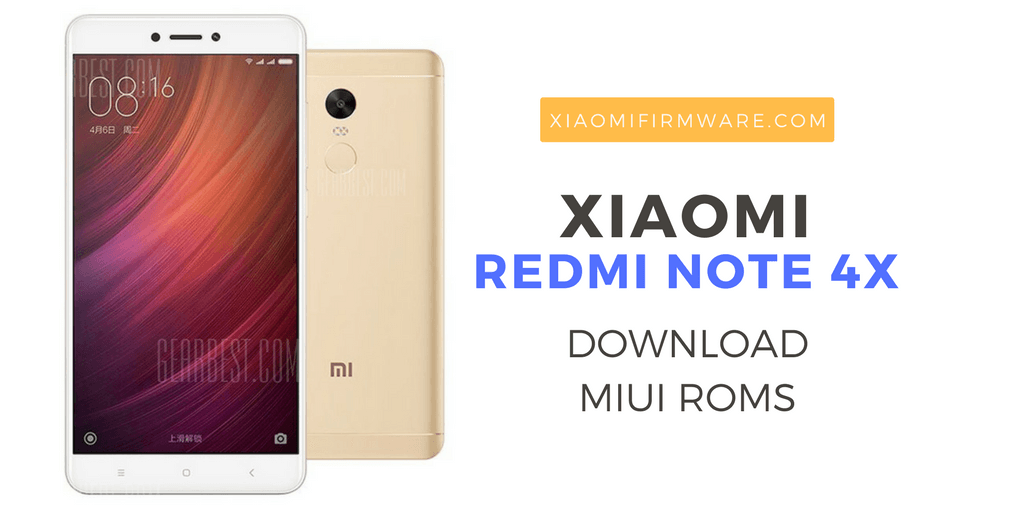 Download Redmi Note 4X Custom and Global MIUI Roms
Redmi Note 4X Custom ROMS
Android Pie 9.x.x
Please note, that the Android 9 ROMs aren't working with exFat SD cards, this will lead to regular crashes and freezes. Eject or format this card. So currently you can flash Android 9 Custom ROMs only on decrypted DATA partition.
Android Oreo 8.x.x
Android Nougat 7.x.x
---
Android Marshmallow 6.x.x
Official Xiaomi Redmi Note 4X Roms
The Redmi Note 4X from Xiaomi is a great smart phone which is ideal for budget-conscious consumers. It comes from a trusted manufacturer which is known for offering impressive smart phones at low price points. It features a larger, five-and-a-half inch display screen with high-definition capability. As well, it comes with a powerful chip (the Snapdragon 625). This smart phone is the global version, so it's great for a lot of different audiences, rather than the Chinese market alone. Also, it comes with some exciting and attractive color choices.
When you choose this model, you'll find that it features upgraded Bluetooth (4.2 version), as well as a Sony IMX258 sensor. Packed with excellent features for a competitive price, this smart phone looks more expensive than it is. In fact, you'll probably be proud to show it off.
As well, you'll find that this model is available with 3 gigabytes of RAM and 32 gigabytes of storage. If you prefer to, you may choose the version with higher RAM and GB (4 gigabytes RAM and 64 gigabytes storage).
Treat yourself to quality for a fair price. Upgrade your appealing and functional smart phone today. Find the latest Official MIUI ROMs for Redmi Note 4X (Mido) below.
Download China Stable MIUI ROM for Redmi Note 4X Snapdragon
MIUI China Stable 11.0.2.0 | MIUI11 | Android 7.0 | Recovery / System | Download
MIUI China Stable 11.0.2.0 | MIUI11 | Android 7.0 | Fastboot / MiFlash | Download
MIUI China Stable 10.3.2.0 | MIUI10 | Android 7.0 | Recovery / System | Download
MIUI China Stable 10.3.2.0 | MIUI10 | Android 7.0 | Fastboot / MiFlash | Download
MIUI China Stable 10.2.2.0 | MIUI10 | Android 7.0 | Recovery / System | Download
MIUI China Stable 10.2.2.0 | MIUI10 | Android 7.0 | Fastboot / MiFlash | Download
MIUI China Stable 10.1.1.0 | MIUI10 | Android 7.0 | Recovery / System | Download
MIUI China Stable 10.1.1.0 | MIUI10 | Android 7.0 | Fastboot / MiFlash | Download
Previous versions
MIUI China Stable 9.6.2.0 | MIUI 9 | Android 7.0 | Recovery / System | Download
MIUI China Stable 9.6.2.0 | MIUI 9 | Android 7.0 | Fastboot / MiFlash | Download
MIUI China Stable 9.6.1.0 | MIUI 9 | Android 7.0 | Recovery / System | Download
MIUI China Stable 9.6.1.0 | MIUI 9 | Android 7.0 | Fastboot / MiFlash | Download
MIUI China Stable 9.5.2.0 | MIUI 9 | Android 7.0 | Recovery / System | Download
MIUI China Stable 9.5.2.0 | MIUI 9 | Android 7.0 | Fastboot / MiFlash | Download
MIUI China Stable 9.5.1.0 | MIUI 9 | Android 7.0 | Recovery / System | Download
MIUI China Stable 9.5.1.0 | MIUI 9 | Android 7.0 | Fastboot / MiFlash | Download
MIUI China Stable 9.2.1.0 | MIUI 9 | Android 7.0 | Recovery / System | Download
MIUI China Stable 9.2.1.0 | MIUI 9 | Android 7.0 | Fastboot / MiFlash | Download
MIUI China Stable 9.0.5.0 | MIUI 9 | Android 7.0 | Recovery / System | Download
MIUI China Stable 9.0.5.0 | MIUI 9 | Android 7.0 | Fastboot / MiFlash | Download
MIUI China Stable 9.0.4.0 | MIUI 9 | Android 7.0 | Recovery / System | Download
MIUI China Stable 9.0.4.0 | MIUI 9 | Android 7.0 | Fastboot / MiFlash | Download
MIUI China Stable 9.0.1.0 | MIUI 9 | Android 7.0 | Recovery / System | Daily | Download
MIUI China Stable 8.5.7.0 | MIUI 8 | Android 6.0 | Recovery / System | Download
MIUI China Stable 8.5.7.0 | MIUI 8 | Android 6.0 | Fastboot / MiFlash | Download
MIUI China Stable 8.5.6.0 | MIUI 8 | Android 6.0 | Recovery / System | Download
MIUI China Stable 8.5.6.0 | MIUI 8 | Android 6.0 | Fastboot / MiFlash | Download
MIUI China Stable 8.5.4.0 | MIUI 8 | Android 6.0 | Recovery / System | Download
MIUI China Stable 8.5.4.0 | MIUI 8 | Android 6.0 | Fastboot / MiFlash | Download
MIUI China Stable 8.5.3.0 | MIUI 8 | Android 6.0 | Recovery / System | Download
MIUI China Stable 8.5.3.0 | MIUI 8 | Android 6.0 | Fastboot / MiFlash | Download
MIUI China Stable 8.2.22.0 | MIUI 8 | Android 6.0 | Recovery / System | Download
MIUI China Stable 8.2.22.0 | MIUI 8 | Android 6.0 | Fastboot / MiFlash | Download
MIUI China Stable 8.2.20.0 | MIUI 8 | Android 6.0 | Recovery / System | Download
MIUI China Stable 8.2.20.0 | MIUI 8 | Android 6.0 | Fastboot / MiFlash | Download
MIUI China Stable 8.2.18.0 | MIUI 8 | Android 6.0 | Recovery / System | Download
MIUI China Stable 8.2.18.0 | MIUI 8 | Android 6.0 | Fastboot / MiFlash | Download
MIUI China Stable 8.2.5.0 | MIUI 8 | Android 6.0 | Recovery / System | Download
MIUI China Stable 8.2.5.0 | MIUI 8 | Android 6.0 | Fastboot / MiFlash | Download
MIUI China Stable 8.1.12.0 | MIUI 8 | Android 6.0 | Recovery / System | Download
MIUI China Stable 8.1.12.0 | MIUI 8 | Android 6.0 | Fastboot / MiFlash | Download
MIUI China Stable 8.1.11.0 | MIUI 8 | Android 6.0 | Recovery / System | Download
MIUI China Stable 8.1.11.0 | MIUI 8 | Android 6.0 | Fastboot / MiFlash | Download
Download China Developer MIUI ROM for Redmi Note 4X Snapdragon
MIUI China Developer 9.8.29 | MIUI 10 | Android 7.0 | Recovery / System | Download
MIUI China Developer 9.8.29 | MIUI 10 | Android 7.0 | Fastboot / MiFlash | Download
MIUI China Developer 9.7.18 | MIUI 10 | Android 7.0 | Recovery / System | Download
MIUI China Developer 9.7.18 | MIUI 10 | Android 7.0 | Fastboot / MiFlash | Download
MIUI China Developer 9.6.20 | MIUI 10 | Android 7.0 | Recovery / System | Download
MIUI China Developer 9.6.20 | MIUI 10 | Android 7.0 | Fastboot / MiFlash | Download
MIUI China Developer 9.5.16 | MIUI 10 | Android 7.0 | Recovery / System | Download
MIUI China Developer 9.5.16 | MIUI 10 | Android 7.0 | Fastboot / MiFlash | Download
MIUI China Developer 9.4.25 | MIUI 10 | Android 7.0 | Recovery / System | Download
MIUI China Developer 9.4.25 | MIUI 10 | Android 7.0 | Fastboot / MiFlash | Download
MIUI China Developer 9.3.7 | MIUI 10 | Android 7.0 | Recovery / System | Download
MIUI China Developer 9.3.7 | MIUI 10 | Android 7.0 | Fastboot / MiFlash | Download
Previous versions
MIUI China Developer 9.1.24 | MIUI 10 | Android 7.0 | Recovery / System | Download
MIUI China Developer 9.1.24 | MIUI 10 | Android 7.0 | Fastboot / MiFlash | Download
MIUI China Developer 8.12.27 | MIUI 10 | Android 7.0 | Recovery / System | Download
MIUI China Developer 8.12.13 | MIUI 10 | Android 7.0 | Fastboot / MiFlash | Download
MIUI China Developer 8.12.6 | MIUI 10 | Android 7.0 | Recovery / System | Download
MIUI China Developer 8.12.6 | MIUI 10 | Android 7.0 | Fastboot / MiFlash | Download
MIUI China Developer 8.11.15 | MIUI 10 | Android 7.0 | Recovery / System | Download
MIUI China Developer 8.11.15 | MIUI 10 | Android 7.0 | Fastboot / MiFlash | Download
MIUI China Developer 8.10.25 | MIUI 10 | Android 7.0 | Recovery / System | Download
MIUI China Developer 8.10.25 | MIUI 10 | Android 7.0 | Fastboot / MiFlash | Download
MIUI China Developer 8.9.20 | MIUI 10 | Android 7.0 | Recovery / System | Download
MIUI China Developer 8.9.20 | MIUI 10 | Android 7.0 | Fastboot / MiFlash | Download
MIUI China Developer 8.8.16 | MIUI 10 | Android 7.0 | Recovery / System | Download
MIUI China Developer 8.8.16 | MIUI 10 | Android 7.0 | Fastboot / MiFlash | Download
MIUI China Developer 8.7.26 | MIUI 10 | Android 7.0 | Recovery / System | Download
MIUI China Developer 8.7.26 | MIUI 10 | Android 7.0 | Fastboot / MiFlash | Download
MIUI China Developer 8.6.29 | MIUI 10 | Android 7.0 | TWRP | closed alpha |Download
MIUI China Developer 8.4.26 | MIUI 9 | Android 7.0 | Recovery / System | Download
MIUI China Developer 8.4.26 | MIUI 9 | Android 7.0 | Fastboot / MiFlash | Download
MIUI China Developer 8.3.22 | MIUI 9 | Android 7.0 | Recovery / System | Download
MIUI China Developer 8.3.22 | MIUI 9 | Android 7.0 | Fastboot / MiFlash | Download
MIUI China Developer 8.3.1 | MIUI 9 | Android 7.0 | Recovery / System | Download
MIUI China Developer 8.3.1 | MIUI 9 | Android 7.0 | Fastboot / MiFlash | Download
MIUI China Developer 8.2.1 | MIUI 9 | Android 7.0 | Recovery / System | Download
MIUI China Developer 8.2.1 | MIUI 9 | Android 7.0 | Fastboot / MiFlash | Download
MIUI China Developer 8.1.18 | MIUI 9 | Android 7.0 | Recovery / System | Download
MIUI China Developer 8.1.18 | MIUI 9 | Android 7.0 | Fastboot / MiFlash | Download
MIUI China Developer 8.1.11 | MIUI 9 | Android 7.0 | Recovery / System | Download
MIUI China Developer 8.1.11 | MIUI 9 | Android 7.0 | Fastboot / MiFlash | Download
MIUI China Developer 7.12.28 | MIUI 9 | Android 7.0 | Recovery / System | Download
MIUI China Developer 7.12.28 | MIUI 9 | Android 7.0 | Fastboot / MiFlash | Download
MIUI China Developer 7.12.21 | MIUI 9 | Android 7.0 | Recovery / System | Download
MIUI China Developer 7.12.21 | MIUI 9 | Android 7.0 | Fastboot / MiFlash | Download
MIUI China Developer 7.12.14 | MIUI 9 | Android 7.0 | Recovery / System | Download
MIUI China Developer 7.12.14 | MIUI 9 | Android 7.0 | Fastboot / MiFlash | Download
MIUI China Developer 7.12.7 | MIUI 9 | Android 7.0 | Recovery / System | Download
MIUI China Developer 7.12.7 | MIUI 9 | Android 7.0 | Fastboot / MiFlash | Download
MIUI China Developer 7.11.16 | MIUI 9 | Android 7.0 | Recovery / System | Download
MIUI China Developer 7.11.16 | MIUI 9 | Android 7.0 | Fastboot / MiFlash | Download
MIUI China Developer 7.11.9 | MIUI 9 | Android 7.0 | Recovery / System | Download
MIUI China Developer 7.11.9 | MIUI 9 | Android 7.0 | Fastboot / MiFlash | Download
MIUI China Developer 7.11.2 | MIUI 9 | Android 7.0 | Recovery / System | Download
MIUI China Developer 7.11.2 | MIUI 9 | Android 7.0 | Fastboot / MiFlash | Download
MIUI China Developer 7.10.26 | MIUI 9 | Android 7.0 | Recovery / System | Download
MIUI China Developer 7.10.26 | MIUI 9 | Android 7.0 | Fastboot / MiFlash | Download
MIUI China Developer 7.10.19 | MIUI 9 | Android 7.0 | Recovery / System | Download
MIUI China Developer 7.10.19 | MIUI 9 | Android 7.0 | Fastboot / MiFlash | Download
MIUI China Developer 7.10.14 | MIUI 9 | Android 7.0 | Recovery / System | Download
MIUI China Developer 7.10.14 | MIUI 9 | Android 7.0 | Fastboot / MiFlash | Download
MIUI China Developer 7.9.28 | MIUI 9 | Android 7.0 | Recovery / System | Download
MIUI China Developer 7.9.28 | MIUI 9 | Android 7.0 | Fastboot / MiFlash | Download
MIUI China Developer 7.6.8 | MIUI 8 | Android 7.0 | Recovery / System | Download
MIUI China Developer 7.6.8 | MIUI 8 | Android 7.0 | Fastboot / MiFlash | Download
Download Global Stable MIUI ROM for Redmi Note 4X Snapdragon
MIUI Global Stable 11.0.2.0 | MIUI 11 | Android 7.0 | Recovery / System | Download
MIUI Global Stable 11.0.2.0 | MIUI 11 | Android 7.0 | Fastboot / MiFlash | Download
MIUI Global Stable 10.2.3.0 | MIUI 10 | Android 7.0 | Recovery / System | Download
MIUI Global Stable 10.2.3.0 | MIUI 10 | Android 7.0 | Fastboot / MiFlash | Download
Previous versions
MIUI Global Stable 10.1.1.0 | MIUI 10 | Android 7.0 | Recovery / System | Download
MIUI Global Stable 10.1.1.0 | MIUI 10 | Android 7.0 | Fastboot / MiFlash | Download
MIUI Global Stable 9.6.3.0 | MIUI 9 | Android 7.0 | Recovery / System | Download
MIUI Global Stable 9.6.3.0 | MIUI 9 | Android 7.0 | Fastboot / MiFlash | Download
MIUI Global Stable 9.6.2.0 | MIUI 9 | Android 7.0 | Recovery / System | Download
MIUI Global Stable 9.6.2.0 | MIUI 9 | Android 7.0 | Fastboot / MiFlash | Download
MIUI Global Stable 9.5.11.0 | MIUI 9 | Android 7.0 | Recovery / System | Download
MIUI Global Stable 9.5.11.0 | MIUI 9 | Android 7.0 | Fastboot / MiFlash | Download
MIUI Global Stable 9.5.8.0 | MIUI 9 | Android 7.0 | Recovery / System | Download
MIUI Global Stable 9.5.8.0 | MIUI 9 | Android 7.0 | Fastboot / MiFlash | Download
MIUI Global Stable 9.5.4.0 | MIUI 9 | Android 7.0 | Recovery / System | Download
MIUI Global Stable 9.5.4.0 | MIUI 9 | Android 7.0 | Fastboot / MiFlash | Download
MIUI Global Stable 9.2.1.0 | MIUI 9 | Android 7.0 | Recovery / System | Download
MIUI Global Stable 9.2.1.0 | MIUI 9 | Android 7.0 | Fastboot / MiFlash | Download
MIUI Global Stable 9.2.1.0 | MIUI 9 | Android 7.0 | Recovery / System | Daily | Download
MIUI Global Stable 9.0.7.0 | MIUI 9 | Android 7.0 | Recovery / System | Download
MIUI Global Stable 9.0.7.0 | MIUI 9 | Android 7.0 | Fastboot / MiFlash | Download
MIUI Global Stable 9.0.7.0 | MIUI 9 | Android 7.0 | Recovery / System | Daily | Download
MIUI Global Stable 9.0.5.0 | MIUI 9 | Android 7.0 | Recovery / System | Download
MIUI Global Stable 9.0.5.0 | MIUI 9 | Android 7.0 | Fastboot / MiFlash | Download
MIUI Global Stable 9.0.3.0 | MIUI 9 | Android 7.0 | Recovery / System | Download
MIUI Global Stable 9.0.3.0 | MIUI 9 | Android 7.0 | Fastboot / MiFlash | Download
MIUI Global Stable 9.0.3.0 | MIUI 9 | Android 7.0 | Recovery / System | Nightly | Download
MIUI Global Stable 8.5.8.0 | MIUI 8 | Android 7.0 | Recovery / System | Download
MIUI Global Stable 8.5.8.0 | MIUI 8 | Android 7.0 | Fastboot / MiFlash | Download
MIUI Global Stable 8.5.4.0 | MIUI 8 | Android 7.0 | Recovery / System | Download
MIUI Global Stable 8.5.4.0 | MIUI 8 | Android 7.0 | Fastboot / MiFlash | Download
MIUI Global Stable 8.2.10.0 | MIUI 8 | Android 6.0 | Recovery / System | Download
MIUI Global Stable 8.2.10.0 | MIUI 8 | Android 6.0 | Fastboot / MiFlash | Download
MIUI Global Stable 8.2.5.0 | MIUI 8 | Android 6.0 | Recovery / System | Download
MIUI Global Stable 8.2.5.0 | MIUI 8 | Android 6.0 | Fastboot / MiFlash | Download
MIUI Global Stable 8.1.15.0 | MIUI 8 | Android 6.0 | Recovery / System | Download
MIUI Global Stable 8.1.15.0 | MIUI 8 | Android 6.0 | Fastboot / MiFlash | Download
MIUI Global Stable 8.1.10.0 | MIUI 8 | Android 6.0 | Recovery / System | Download
MIUI Global Stable 8.1.10.0 | MIUI 8 | Android 6.0 | Fastboot / MiFlash | Download
Download Global Developer MIUI ROM for Redmi Note 4X Snapdragon
MIUI Global Developer 8.12.20 | MIUI 10 | Android 7.0 | Recovery / System | Download
MIUI Global Developer 8.12.20 | MIUI 10 | Android 7.0 | Fastboot / MiFlash | Download
MIUI Global Developer 8.12.6 | MIUI 10 | Android 7.0 | Recovery / System | Download
MIUI Global Developer 8.12.6 | MIUI 10 | Android 7.0 | Fastboot / MiFlash | Download
Previous versions
MIUI Global Developer 8.11.15 | MIUI 10 | Android 7.0 | Recovery / System | Download
MIUI Global Developer 8.11.15 | MIUI 10 | Android 7.0 | Fastboot / MiFlash | Download
MIUI Global Developer 8.10.25 | MIUI 10 | Android 7.0 | Recovery / System | Download
MIUI Global Developer 8.10.25 | MIUI 10 | Android 7.0 | Fastboot / MiFlash | Download
MIUI Global Developer 8.9.20 | MIUI 10 | Android 7.0 | Recovery / System | Download
MIUI Global Developer 8.9.20 | MIUI 10 | Android 7.0 | Fastboot / MiFlash | Download
MIUI Global Developer 8.8.16 | MIUI 10 | Android 7.0 | Recovery / System | Download
MIUI Global Developer 8.8.16 | MIUI 10 | Android 7.0 | Fastboot / MiFlash | Download
MIUI Global Developer 8.8.2 | MIUI 10 | Android 7.0 | Recovery / System | Download
MIUI Global Developer 8.8.2 | MIUI 10 | Android 7.0 | Fastboot / MiFlash | Download
MIUI Global Developer 8.5.25 | MIUI 9 | Android 7.0 | Recovery / System | Download
MIUI Global Developer 8.5.25 | MIUI 9 | Android 7.0 | Fastboot / MiFlash | Download
MIUI Global Developer 8.4.26 | MIUI 9 | Android 7.0 | Recovery / System | Download
MIUI Global Developer 8.4.26 | MIUI 9 | Android 7.0 | Fastboot / MiFlash | Download
MIUI Global Developer 8.3.22 | MIUI 9 | Android 7.0 | Recovery / System | Download
MIUI Global Developer 8.3.22 | MIUI 9 | Android 7.0 | Fastboot / MiFlash | Download
MIUI Global Developer 8.3.1 | MIUI 9 | Android 7.0 | Recovery / System | Download
MIUI Global Developer 8.3.1 | MIUI 9 | Android 7.0 | Fastboot / MiFlash | Download
MIUI Global Developer 8.2.8 | MIUI 9 | Android 7.0 | Recovery / System | Download
MIUI Global Developer 8.2.8 | MIUI 9 | Android 7.0 | Fastboot / MiFlash | Download
MIUI Global Developer 8.2.1 | MIUI 9 | Android 7.0 | Recovery / System | Download
MIUI Global Developer 8.2.1 | MIUI 9 | Android 7.0 | Fastboot / MiFlash | Download
MIUI Global Developer 8.1.18 | MIUI 9 | Android 7.0 | Recovery / System | Download
MIUI Global Developer 8.1.18 | MIUI 9 | Android 7.0 | Fastboot / MiFlash | Download
MIUI Global Developer 8.1.11 | MIUI 9 | Android 7.0 | Recovery / System | Download
MIUI Global Developer 8.1.11 | MIUI 9 | Android 7.0 | Fastboot / MiFlash | Download
MIUI Global Developer 7.12.28 | MIUI 9 | Android 7.0 | Recovery / System | Download
MIUI Global Developer 7.12.28 | MIUI 9 | Android 7.0 | Fastboot / MiFlash | Download
MIUI Global Developer 7.12.21 | MIUI 9 | Android 7.0 | Recovery / System | Download
MIUI Global Developer 7.12.21 | MIUI 9 | Android 7.0 | Fastboot / MiFlash | Download
MIUI Global Developer 7.12.14 | MIUI 9 | Android 7.0 | Recovery / System | Download
MIUI Global Developer 7.12.14 | MIUI 9 | Android 7.0 | Fastboot / MiFlash | Download
MIUI Global Developer 7.12.8 | MIUI 9 | Android 7.0 | Recovery / System | Download
MIUI Global Developer 7.12.8 | MIUI 9 | Android 7.0 | Fastboot / MiFlash | Download
MIUI Global Developer 7.11.16 | MIUI 9 | Android 7.0 | Recovery / System | Download
MIUI Global Developer 7.11.16 | MIUI 9 | Android 7.0 | Fastboot / MiFlash | Download
MIUI Global Developer 7.11.6 | MIUI 9 | Android 7.0 | Recovery / System | Download
MIUI Global Developer 7.11.6 | MIUI 9 | Android 7.0 | Fastboot / MiFlash | Download
MIUI Global Developer 7.11.2 | MIUI 9 | Android 7.0 | Recovery / System | Download
MIUI Global Developer 7.11.2 | MIUI 9 | Android 7.0 | Fastboot / MiFlash | Download
MIUI Global Developer 7.10.19 | MIUI 9 | Android 7.0 | Recovery / System | Download
MIUI Global Developer 7.10.19 | MIUI 9 | Android 7.0 | Fastboot / MiFlash | Download
MIUI Global Developer 7.6.8 | MIUI 8 | Android 7.0 | Recovery / System | Download
MIUI Global Developer 7.6.8 | MIUI 8 | Android 7.0 | Fastboot / MiFlash | Download
MIUI Global Developer 7.2.16 | MIUI 8 | Android 6.0 | Recovery / System | Download
---
Redmi Note 4X Unofficial Localized ROM
Xiaomi.eu | Stable | 10.1.1.0 | TWRP | Download
Xiaomi.eu | Stable | 9.5.2.0 | TWRP | Download
Xiaomi.eu | Stable | 9.5.1.0 | TWRP | Download
Xiaomi.eu | Stable | 9.2.1.0 | TWRP | Download
Xiaomi.eu | Stable | 9.0.5.0 | TWRP | Download
Xiaomi.eu | Stable | 8.5.7.0 | TWRP | Download
Xiaomi.eu | Stable | 8.5.6.0 | TWRP | Download
Xiaomi.eu | Developer | 8.12.6 | TWRP | Download
Xiaomi.eu | Developer | 8.7.26 | TWRP | Download
Xiaomi.eu | Developer | 8.4.26 | TWRP | Download
Xiaomi.eu | Developer | 8.3.22 | TWRP | Download
Xiaomi.eu | Developer | 8.2.1 | TWRP | Download
Xiaomi.eu | Developer | 8.1.11 | TWRP | Download
Xiaomi.eu | Developer | 7.12.28 | TWRP | Download
Xiaomi.eu | Developer | 7.12.14 | TWRP | Download
Xiaomi.eu | Developer | 7.11.2 | TWRP | Download
Xiaomi.eu | Developer | 7.6.8 | TWRP | Download
Xiaomi.eu – Developer 7.2.23 TWRP / Mirror link
Xiaomi.eu – Developer 7.2.24 TWRP Android N
---
MultiROM | Stable | 9.0.5.0 | TWRP | Download
MultiROM | Developer | 8.1.4 | TWRP | Download
---
MiGlobe | Developer | 8.1.11 | TWRP | Download
MiGlobe | Developer | 7.12.28 | TWRP | Download
MiGlobe | Developer | 7.12.14 | TWRP | Download
MiGlobe | Developer | 7.10.26 | TWRP | Download
Guides and instructions for Redmi Note 4X