As I recently shared on Facebook, my Redmi 4X just received an OTA update to MIUI 9 Global Stable ROM 9.1.1.0 (NAMMIEI). Actually, I'm quite surprised with it. Previously I've been using LG, Samsung and Huawei smartphones and I've never received any cool updates on these devices. So, I really was impatient to check all the new features.
Redmi 4X (santoni) MIUI 9 Global Stable ROM Overview
Previously, one of our authors already covered the most awesome things about MIUI 9. Here I will share a few differences from MIUI 8, that I've noticed at first sight.
I'm really enjoying the new animations, they're really nice and smooth looking. Overall the new ROM version runs pretty fast. New stock theme is called "Limitless" and it comes with new beautiful flat icons and backgrounds. I prefer to use more darker background on my phone, but I fell in love with the new icons.
Text on the bottom icons is now removed. Looks pretty good if you ask me. Also small icons in notification bar is looking much prettier.
I also noticed a new icon near the standard clock widget, which I've actually missed.
Another new feature is MIUI "Screen Recorded" application. Here's a short example of a screen recording I've made.
MIUI 9 Global Stable ROM 9.1.1.0 for Redmi 4X from XiaomiFirmware on Vimeo.
A small fix I've noticed is that Instagram now opens with the right colors in notification bar. Previously it was all white on my phone.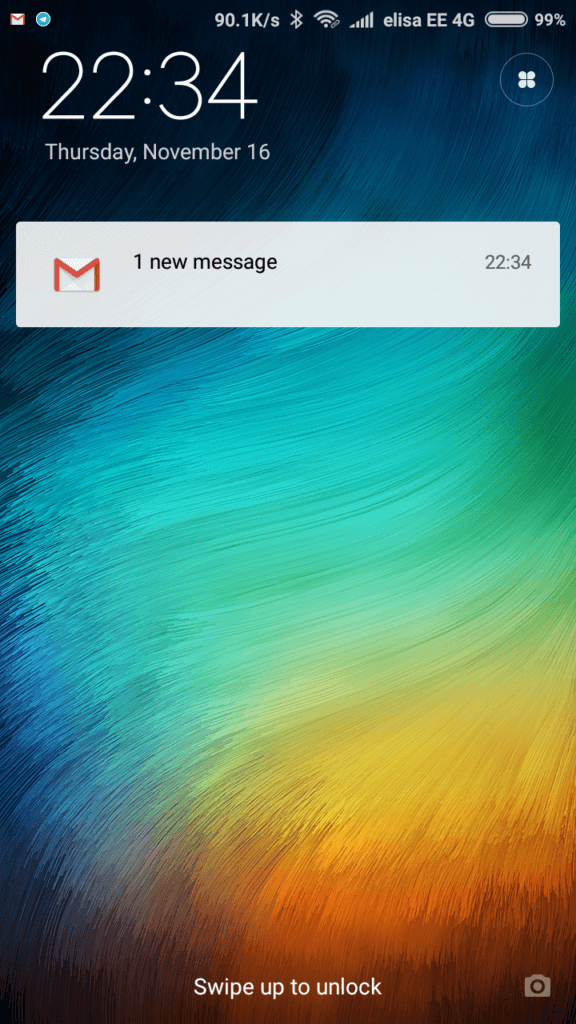 The only thing that bothers me with the new update is that Gmail notifications are now displayed without any message title and short excerpt. The only text I see "1 New message", it was quite convenient for me to see what message I've received without opening it in the Gmail app. If anyone got a solution for this, I'll be more than happy.
How to update Redmi 4X to MIUI 9 Global Stable with Updater App
If you haven't received an OTA update, you can easily do it manually. This method will only work if you've got previous version of Official MIUI Global Stable ROM installed.
Download recovery ROM from the link below.
Open "Updater" application.
Tap on the three dots icon in the top.
Tap on "Choose update package" and locate downloaded ROM .zip archive.
Wait until installation completed and your phone automatically reboots into system.
Download MIUI9 Recovery ROM version here:
Redmi 4X (santoni) – Global Stable ROM 9.1.1.0 (NAMMIEI) / MIUI 9 / Recovery / System / Android 7.1: Download
Redmi 4X (santoni) – Global Stable ROM 9.1.1.0 (NAMMIEI) / MIUI 9 / MiFlash / fastboot / Android 7.1: Download
---
Redmi 4X (santoni) – Global Stable ROM 9.1.1.0 (NAMMIEI) / MIUI 9 / Recovery / System / Daily / Android 7.1: Download
Find all the previous ROMs for Redmi 4X (santoni), including the latest China Stable MIUI 9 ROM here: https://xiaomifirmware.com/downloads/download-latest-miui-roms-xiaomi-redmi-4x/
And what about you? Did you installed this version already? Share your thoughts and comments below!