If you're in the market for a new smart phone, you'll enjoy learning about the Xiaomi Mi Max 2 4G Phablet. It's the next iteration of the Mix Max Phablet and it comes from China. When it was launched, its manufacturer, Xiaomi, released plenty of information about its key features and selling points.
Is the Xiaomi Mi Max 2 4G Phablet Smart Phone Right for You?
It's most renowned for its big screen and its large battery! However, it has lots of bells and whistles, including stereo speakers and an improved "one-hand" mode.
Today, we'd like to share information about the features of this affordable and highly-rated design…
Discover Xiaomi Mi Max 2 Features
First off, let's talk about the screen. It gets lots of hype and buzz because it's big! It measures 6.44 inches. Also, you should know that this Phablet utilizes the Android operating system. It is equipped with Wi-Fi capability, a scanner for fingerprints and 1920 by 1080 pixels of resolution. The screen is of the IPS type and this tablet features a Snapdragon 625 Octa Core 2 GHz CPU.
When you choose this Chinese design, you'll get four gigabytes of RAM and one hundred and twenty-eight gigabytes of ROM. As well, you'll find that there is a 5.0MP camera in front and a 12MP camera in back. The GPU for this model is an Adreno 506 650MHz.
Also, this tablet is loaded with high-tech sensors, including an e-compass, a gyroscope, a gravity sensor, a proximity sensor and a fingerprint sensor. As well, it features dual standby for SIM (nano and micro SIMS). The Phablet is Bluetooth 4.2 enabled. Networks available include 2G, 3G and 4G.
This model has great battery life, thanks to its big battery and its energy-efficient processor.
Two styles will be available, so you'll be able to pick the amount of storage that you want. Choose a 64GB model or spend a bit more in order to access 128GB of storage.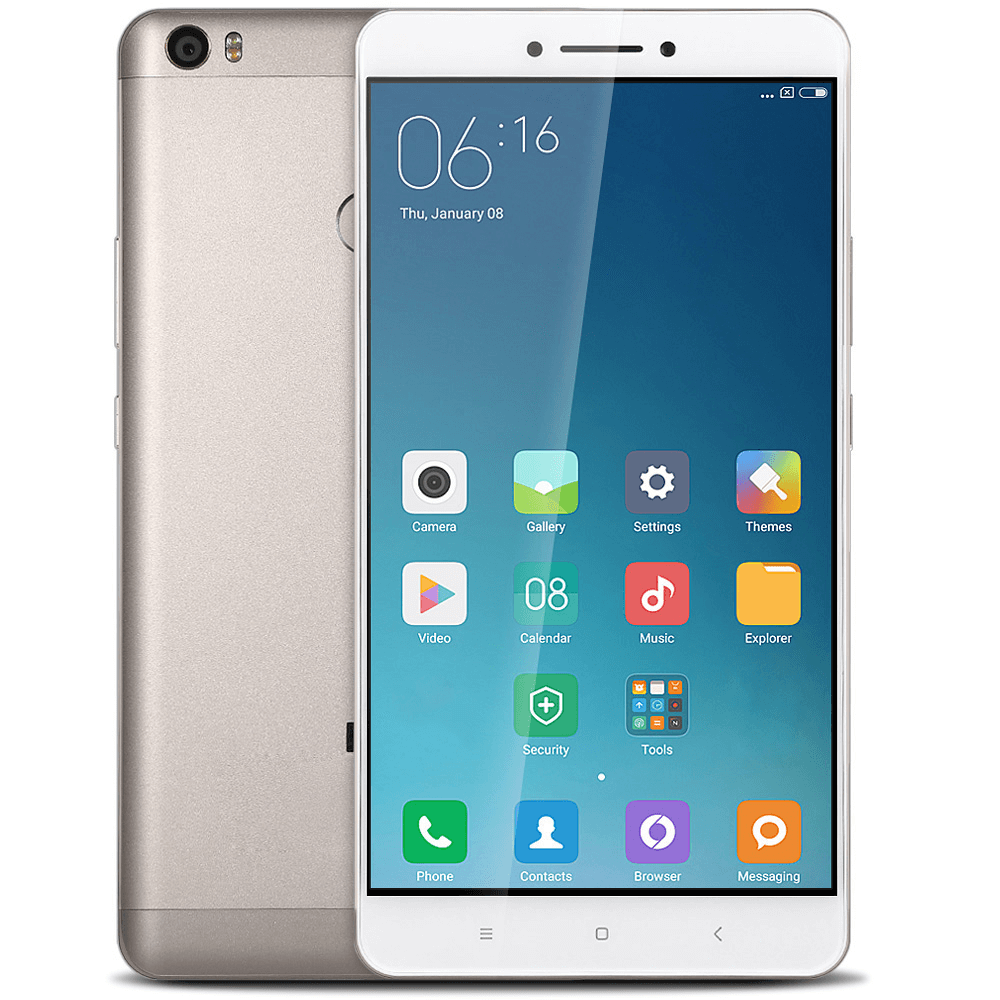 How Does it Look and Feel?
This design has a look which is similar to an iPhone. It's simple, sleek and modern and the smart phone has edges which are rounded. As well, it has antenna lines which are very subtle and give the Mi Max 2 an iPhone 7 vibe, without the super-high price tag. The rounded edges of this design make it very easy to hold. As well, it comes with software which promotes easier one-hand usage.
This Smart Phone Has Great Features
This design has a body which is all-metal. Its body is very symmetrical and the speaker grilles and charging port are found on the bottom panel. As well, this design is compatible with Quick Charge 3.0, so you'll be able to charge up the unit's large 5300mAh battery very quickly. With a full charge, this smart phone should keep running for an amazing two days!
If you get weary of "low battery" icons and constant charging, you may find that this smart phone is life-changing. You'll love its huge battery and the way that it makes it easier to enjoy your smart phone without as much recharging. This is an important selling point and it does set this smart phone apart from many others!
This smart phone will go on sale in China on the first of June, 2017. It's a smart phone which is hotly-anticipated. Time will tell how it's rated by real-life customers. However, based on its features and information from its manufacturer, it has all of the hallmarks of a winner. Long battery life, fast charging, a huge screen and dual cameras are primary benefits. Designed to make life easy and enjoyable for smart phone users, the Xiaomi Mi Max 2 4G Phablet Smart Phone certainly seems to offer superb value for the money.
How to Get Xiaomi Mi Max 2 for the right price?
It should be easy to buy this smart phone online in the near future or to purchase it at community-based retail outlets in China. At present, the company hasn't indicated whether or not this model will be available in other markets beyond China, such as India.
Now that you know more about this exciting new smart phone and all that it has to offer, you'll be ready to check it out online. Like the Mi Max, the Mi Max 2 promises to be a crowd-pleaser!