Engineered – some would say OVER engineered – to withstand pretty much anything you could ever imagine throwing at a smart phone today, the Ulefone ARMOR 4G Smartphone is a flagship style Android device that is powerful, portable, and designed to take a licking and keep on ticking no matter what!
Sure, there are other flagship smart phones available on the market today that promise waterproofing, that promise shock-proofing, and that promise to withstand dents, dings, drops, and damage, but none of them (and we mean NONE of them) are as capable right out of the box as the Ulefone ARMOR 4G Smartphone is.
Initial impressions of Ulefone ARMOR 4G Smartphone
The Ulefone ARMOR 4G Smartphone is very much a smart phone designed for adventuring and those that themselves don't mind getting a little bit down and dirty.
100% waterproof – and certified with IP 68 waterproofing standards – you can drop your phone in a river and leave it there for 30 minutes without anything going wrong with it. Not only that, but you can pull it out of that same river and take a phone call or send a text without even having to dry it off!
The same waterproofing features help to keep dust and debris out of this phone as well. This is a device that is as advanced as they come, providing you with the power and performance you'd expect from a flagship phone, but with a design intended for those that spend life in the fast lane.
Ulefone ARMOR Power and performance
The heartbeat of the Ulefone ARMOR 4G Smartphone is the brand-new eight core Snapdragon 1.3 GHz processor, the same kind of next-generation processor responsible for powering Android smart phones from some of the biggest companies on the planet.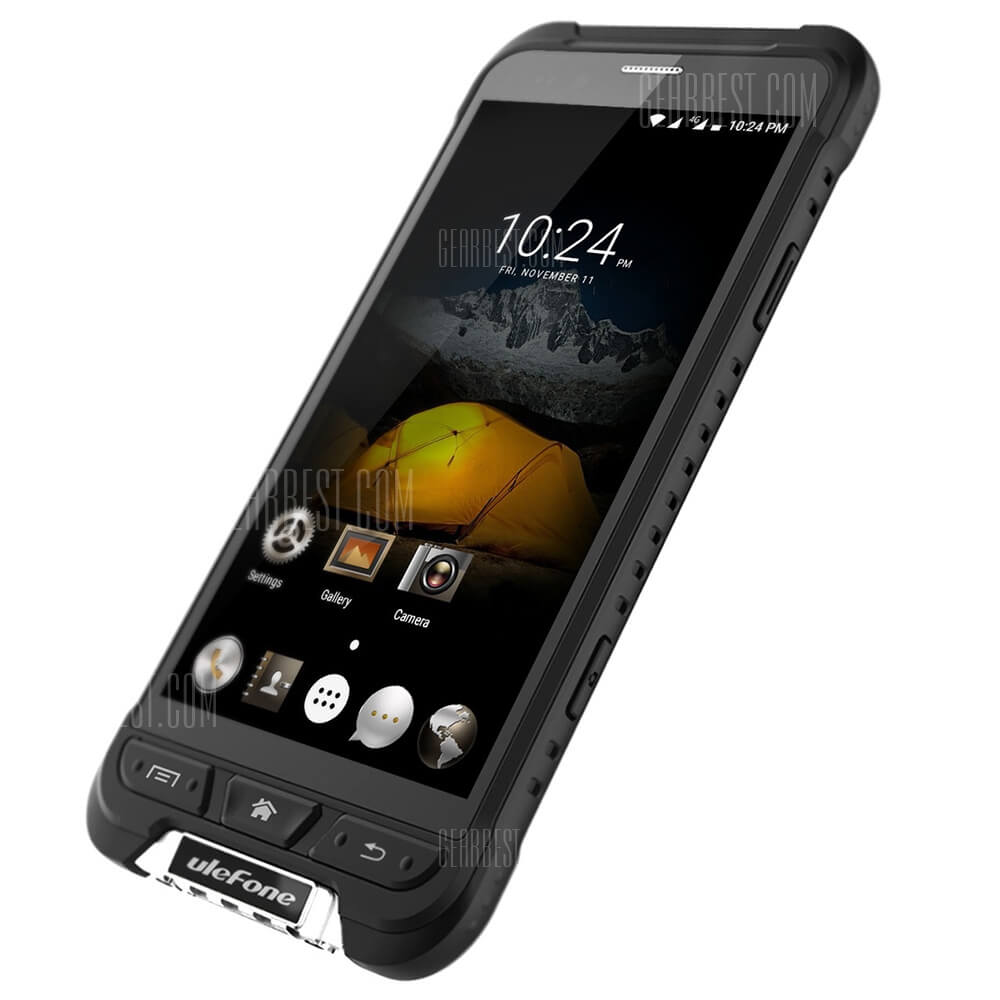 Combine that with 3 GB of RAM and 32 GB of onboard storage (with the capacity for an extra 128 GB of storage with the use of a microSD card) and you are really rocking and rolling here!
The Ulefone ARMOR 4G Smartphone runs Android 6.0 right out of the box and will ALWAYS update to the latest version of Android the moment that it is released by Google. All of your favorite apps are just a few moments away from being downloaded, and thanks to the next generation Bluetooth, Wi-Fi, NFC, and 4G LTE connections you won't ever have to worry about data transfer slowing down – regardless of where you use this phone around the world!
Ulefone ARMOR Standout features
As if all of that wasn't enough to sway you into purchasing the Ulefone ARMOR 4G Smartphone – which, by the way, costs a fraction of what any other flagship Android phone will run you from the major manufacturers out there right now – you're also going to be able to utilize a 13 megapixel camera, a 3500 mAh battery that lasts at least 18 hours on a single charge, and that's just the tip of the iceberg.
The USB C connection guarantees lightning fast data transfer AND the ability to recharge your phone from completely dead to 75% powered up in about 45 minutes and then you'll be able to get the rest of the way to 100% charged in about an hour after that.
It really doesn't get much better than this!
Final verdict
At the end of the day, if you are serious about getting your hands on a flagship style Android smart phone without having to fork over $500 or more – and want the ability to utilize cutting-edge technology, 100% waterproofing, and a phone that can withstand everything short of a tank driving over it – the Ulefone ARMOR 4G Smartphone is the choice for you!