Below you'll find download links to all official MIUI firmware for Xiaomi Redmi 7A (pine). Just in case if you are looking for Redmi 7A Custom ROMs as well, we've already posted an almost complete list with different ROM versions, you can find this post here.
Redmi 7A works on Qualcomm Snapdragon 439 processor, graphic chip Adreno 505, comes with 2GB of RAM and have ISP display. Overall, this device has a positive reviews and comes with a lot of handy features like hand gestures control, automatic display brightness correction and quality sound in the headphones.
Well, enough words for introduction and let's take a look at the list of official & localized ROMs.
List of Redmi 7A (pine) Latest MIUI Firmware
Global Stable ROM for Xiaomi Redmi 7A
China Stable ROM for Xiaomi Redmi 7A
Russia Stable ROM for Xiaomi Redmi 7A
EEA Stable ROM for Xiaomi Redmi 7A
India Stable ROM for Xiaomi Redmi 7A
Download Localized MIUI ROMs for Redmi 7A
First of all, you can use Xiaomi.EU Localized Firmware. This is a stable ROM, which comes in a lot of different languages. Very light-weight, ads free, pretty much very similar to official ROM version, but have additional number of tweaks and patches.
Also, there's MIUI Italia ROM for Redmi 7A. This ROM is developed by a very concerned team of enthusiasts. This ROM usually comes with quality Italian language translations, additional themes, tweaks and features, as well as removed apps which aren't useful outside of China.
How to flash Redmi 7A via fastboot mode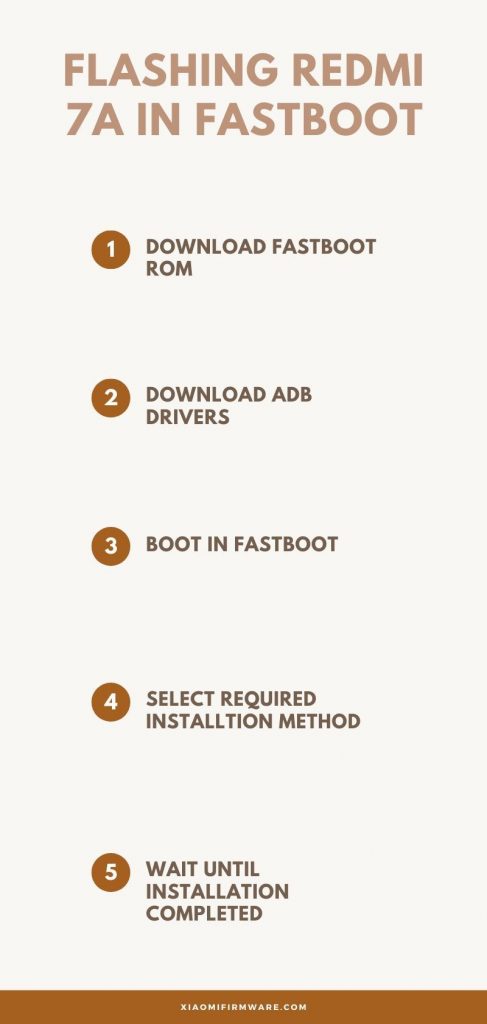 First of all, pay attention that you're taking all the responsibility while doing any manipulations with your phone.
Download required fastboot ROM version for your phone.
Unpack downloaded archive to "C:\" drive.
Download adb.zip
Unpack adb.zip archive to the folder with previously unpacked ROM files.
Start your device in fastboot mode.

First turn it off.
Press "Volume Down" and "Power" buttons at the same time and hold until fastboot logo appears on the screen.

Connect your device to PC (it's highly recommended to use original stock USB cable).
Download and install ADB Driver: adbdriver.zip
Open the folder with unpacked ROM files, you'll see the following .bat files. Select the one you'll need:

flash_all.bat

– flash ROM and memory format (stock reset).

flash_all_except_storage.bat

– flashes ROM and keeps /data partition, meaning that data will be saved on your device after flashing.

flash_all_lock.bat

– flashes ROM and locks the bootloader.

Installation process will take around 10 mins. After successful flashing, your device will automatically reboots into system. First startup will take around 2 mins.