Having a multicolor led light on your Redmi 4X allows your Android to send information to you even while your screen is off. A blinking white light may mean you have a Watsup message waiting, while blinking cyan light may say you have a Facebook notification. Handy, does it?
This is a guide how to enable the multicolor led light on your Redmi 4X (santoni). Interested? Then, let's start.
Enable the Multicolor Led Light on your Redmi 4X (Cyan, Purple, Yellow, White)
Before You Start
The multi-color mode used in this guide requires a root access to work properly. It is tested on MIUI PRO 7.9.14 by Belarus Team. However, it should work fine on most MIUI ROMs. Some users reported that the mode does not work on RR ROM, AEX ROM, and ViperOS ROM. And, others reported it works fine on the new Nougat 8.5.4.0 ROM. So, please share your experience with this mod and how it performs on your custom ROM.
Installation Instruction (No Custom Recovery Required)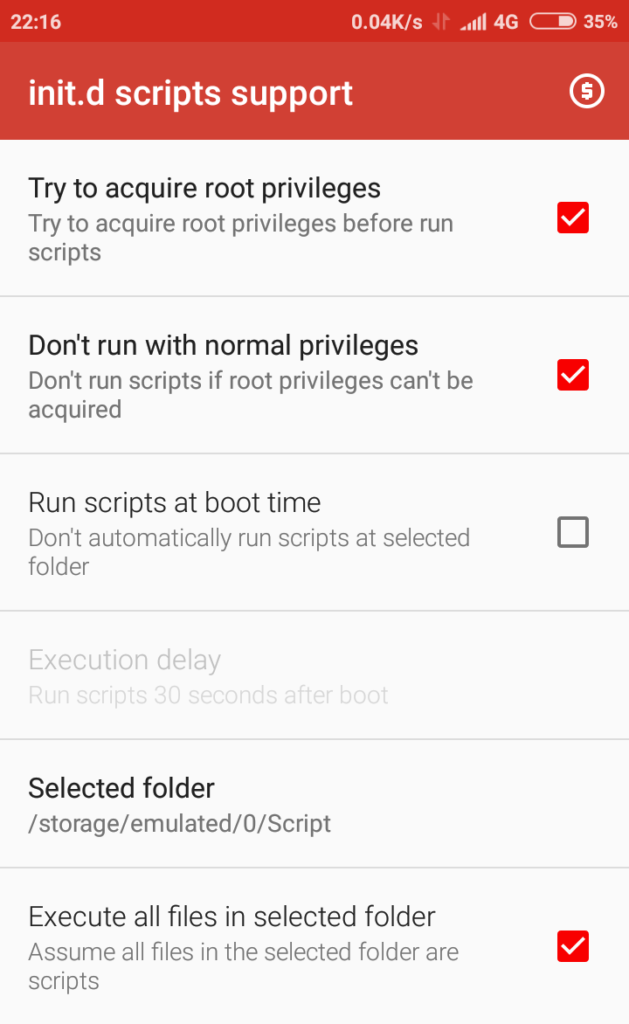 In order to enable this mode on your Redmi 4 X, you need to perform the following steps.
First and obvious, download the script. You can also find the download links at the end of the article.
Keep the downloaded file in a newly created folder on your phone's internal memory.
Download the App init.d scripts support.
Make sure you adjust the settings as they are in the following screenshot.
Click on the button Run scripts now.
Reboot your Redmi 4 X, and you are good to go.
Now your device should be able to send you blinking led signals in cyan, purple, yellow, and white.
Installation Instructions (TWRP method)
In this method, you can find the steps for enabling the multicolor led mode on Redmi 4 X using the TWRP recovery.
Download the flashable zip file of the mod. You can find it at the following link http://en.miui.com/thread-850569-1-1.html
Restart your device into TWRP Recovery mode.
Locate the zip file you have just downloaded, and flash it.
Restart your device and test it.
Download links
App – https://play.google.com/store/apps/d…software.initd
Script – https://app.box.com/s/fnsew6cbhvdmtih2s70po5h016klrjjo
Flashable zip – http://en.miui.com/thread-850569-1-1.html
Final Words
Not all Android phones have notification lights. But, having a multicolor LED notification light on your Redmi 4X is another step further from the standard plain white indicator. Now you can enjoy your new colorful LED indicator.