Lightning fast and impeccably designed, the Xiaomi Redmi 5 flagship smart phone has been unlocked for global use, runs the latest version of the most popular Android mobile operating system on the planet, and takes some of the best pictures of ANY mobile device – phone or tablet – anywhere.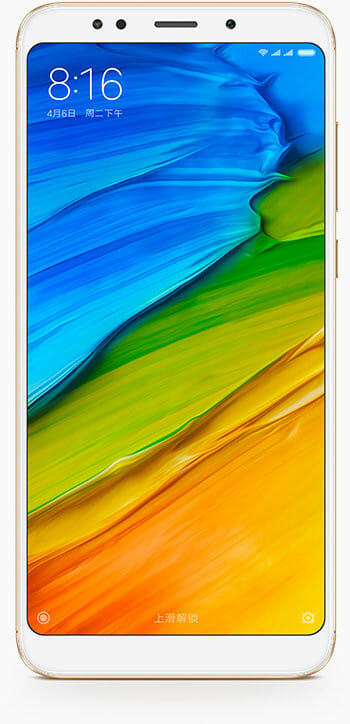 The heartbeat of the Xiaomi Redmi 5 is the brand-new Snapdragon 450 OctaCore processor. This processor runs at 1.8 GHz and has 3 GB of dedicated RAM helping it to power the most demanding applications and games while at the same time helping you run multiple instances of your favorite apps and games all at the same time.
The display is a 5.7 inch, 1440 x 720 HD+ screen with 282 pixels per inch. It's one of the most beautiful LED crystal displays we've ever seen on an Android flagship like this, and it also incredibly durable and resistant to scratches and cracks.
32 GB of onboard storage allow you to carry all of your music, movies, documents, and downloads, but you'll also be able to expand that storage with cloud-based solutions and streaming options. This is very much a phone made for the modern world.
At the end of the day, the Xiaomi Redmi 5 represents one of the biggest leaps forward as far as Android flagship designs are concerned. You are going to love it!
Now let's continue to the most interesting part of this post – we'll begin our list of custom roms for this amazing flagship Android device.
Android Custom Firmware for Xiaomi Redmi 5
To install any of these custom ROMs you must first unlock the bootloader on your device. Next you'll need to flash TWRP Custom Recovery and make a full backup of your current system. It's also recommended to backup all personal data in case of any possible error. Right before installing custom ROM, you should wipe the required partitions except SD card. If you need to install Google Apps, then download it separately and install it along the Custom ROM without booting into system for the first time.
Right now we only have Android 7.x custom ROMs released for Rosy. Let's check each of the ROMs one-by-one and we'll start with the most recent one, dotOS 1.2.
dotOS v1.2 ROM for Redmi 5
Official source: XDA Thread | Download: Google Drive
dotOS ROM Features:
Very stable performance
Lagfree
Awesome interface
Pre-installed applications
OMS support
dotOS seems to be one of the most convenient ROMs ever released. Almost all features work perfectly find, including: fingerprint scanner, camera application and more. Another great thing is that this ROM consumes very small amount of RAM.
AOSP Extended V4.6 for Redmi 5
Just another popular ROM version, have working double-tap and most of applications are working perfectly fine.
Download: Sourceforge
LineageOS 14.1 for Redmi 5 (rosy)
Source link: XDA Thread
Let me say a few words about LineageOS for rosy. I want to start with battery life and it's really amazing and incomparable. Google Camera (Arnova) is working as well as many other applications. LineageOS is still one of the best ROMs you could try.
Resurrection Remix for Redmi 5
Developed by juanan | Android 7.1
Many of the users think that RR ROM is even better than LineageOS. Very good firmware version.
Download: MEGA.nz
Unofficial crDroid v3.8.7 for Redmi 5
Developed by abhijeetdahiya
Find more information about this ROM as well as installation tutorials on official XDA Thread.